Zoom has skyrocketed in popularity during the pandemic, but it is not a recommended tool for everyone. There are other great choices for video conference services, and Zoom is not the only solution.
Here are the best Zoom alternatives that you should consider.
Where Zoom falls short
Aside from the reported security and privacy flaws, some might find Zoom inconvenient for the following reasons.
This post contains references to products where I receive commissions for purchases made through links. This is to help support my blog and does not cost you any extra.
The mobile app is not as good as the desktop version, and the audio quality is subpar.
The free version limits to 40 minutes of the meeting time.
When a video conference URL is shared, the recipient of the URL is forced to download and install Zoom. It would be better for the not-so-tech-savvy participants to be able to join the video conference within the browser.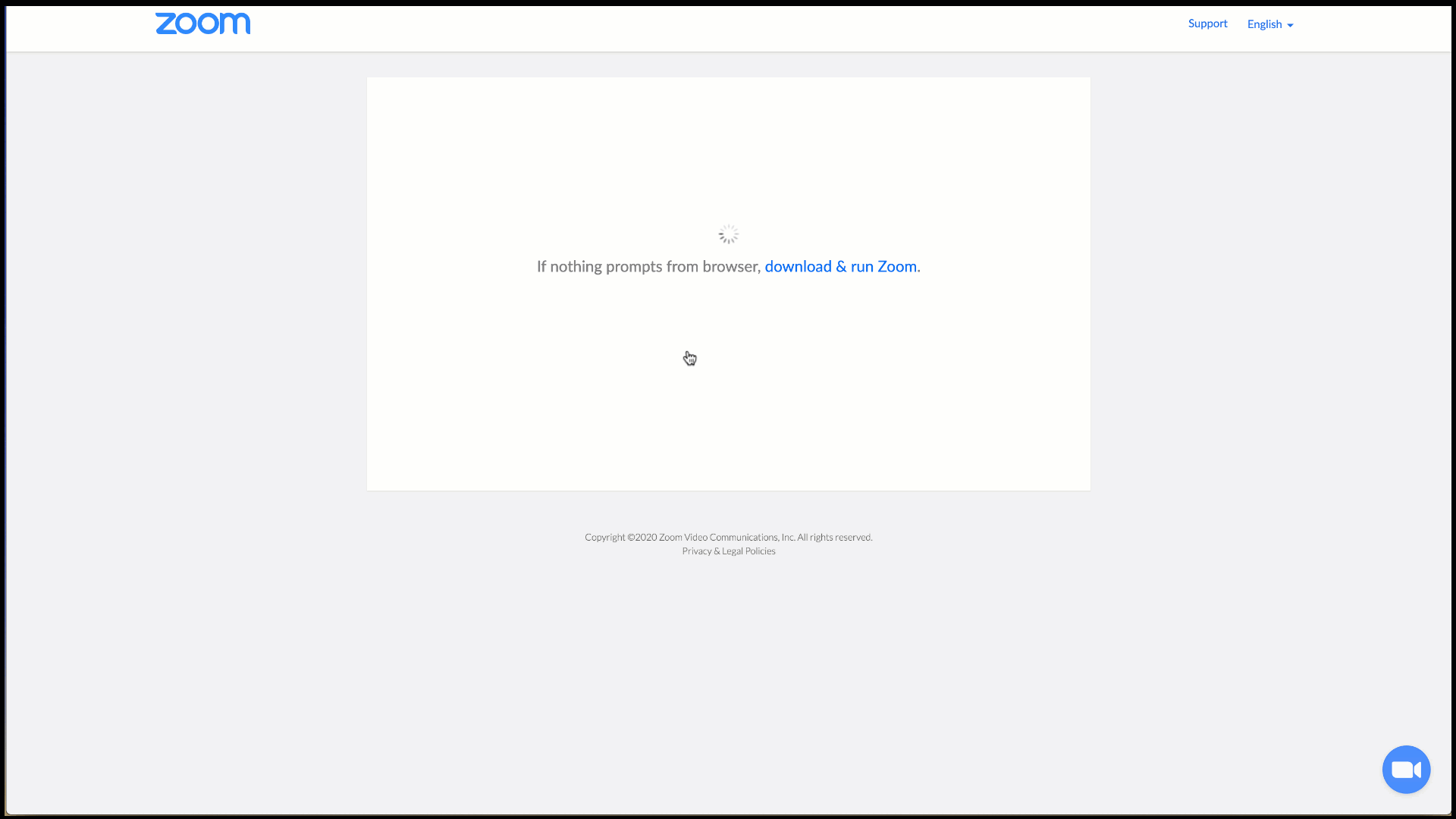 When you click the link to the video conference room, you are forced to download Zoom.
Zoom alternatives
Instead, here are the top Zoom alternatives you might consider, both paid and free.
GoToMeeting
GoToMeeting boasts more than 18 million users worldwide per month.
Their "Professional" annual plan is offered at $12/month at 150 participants cap. In comparison, the "Business" yearly plan is offered at $16/month with 250 participants cap, which is cheaper than Zoom's $14.99/month pro plan and $19.99/month business plan.
GoToMeeting is becoming a popular tool for its flexibility. It can be used for teleconferencing, meetings, and webinars.

The best part?
It's so easy to set up your meeting room, and you can even create your custom URL link to share. That way, you can brand the link like https://www.gotomeet.me/your-company-name (Zoom doesn't let you create a custom link). Unlike Zoom, when someone clicks the URL shared with them, they do not have to install the software. They can participate in the meeting within the browser. Oh, and the meeting organizer can create and start a session all within the browser! Here's a quick demonstration.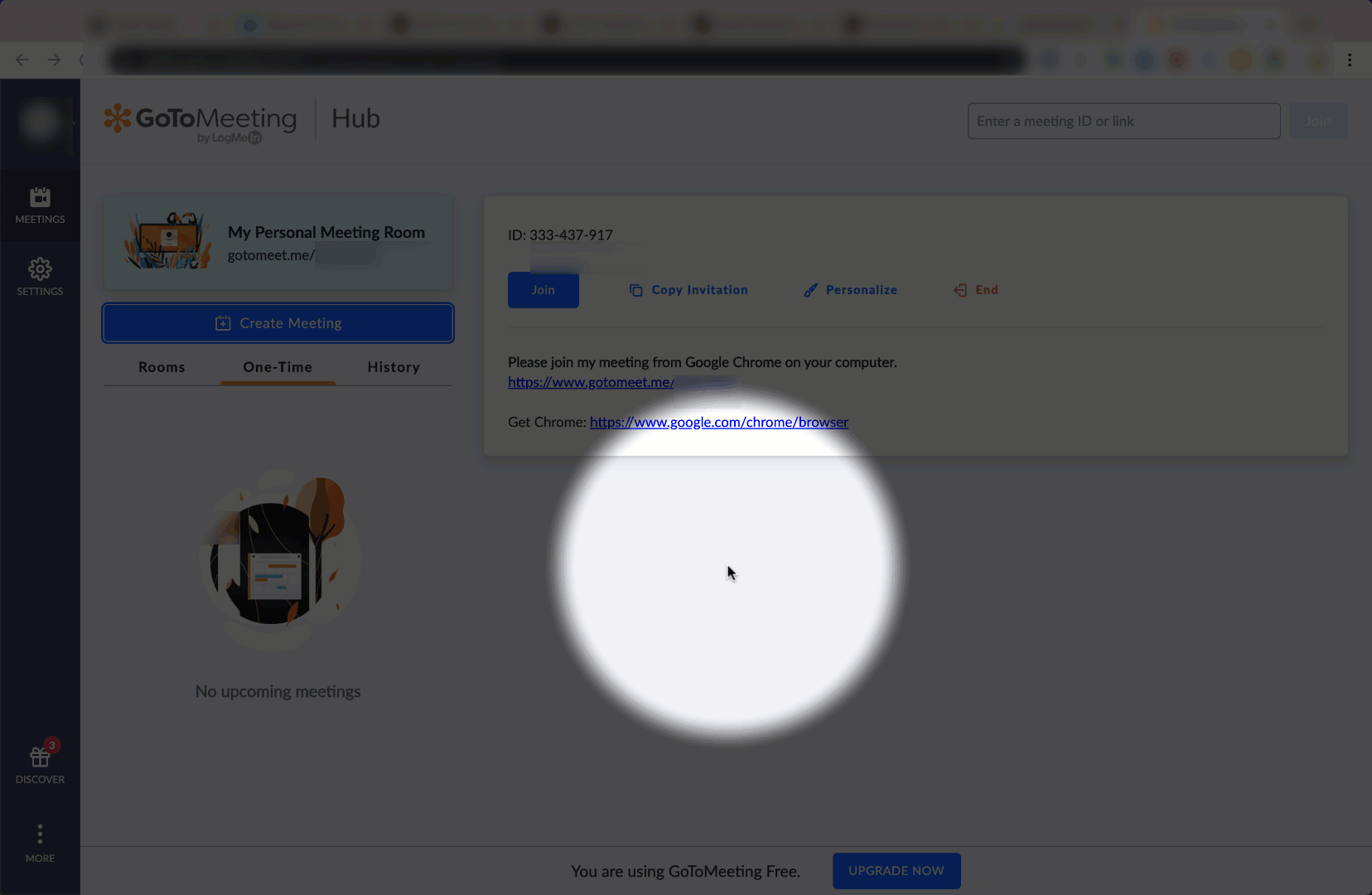 Pros
Participants can join the meeting within browser without installing the software.
Meeting organizers can create and start a meeting within their browser.
Unlimited meetings and no meeting time limits.
Toll-free numbers available for those phoning in
Share screen, and give another user control of the mouse and keyboard. If you have multiple presenters, you can instead of switching the display screen back and forth with another presenter, both of you can simply work from the same powerpoint or keynote presentation. And you can draw and highlight items on the screen too.
Unlimited recording of your conference so that you can listen again and share later
Automatic transcription. This is very convenient if you want to refer back to what has been discussed in the meeting. Sure, the automatic transcription may have a few spelling errors, but if you need to check your meeting notes quickly, the transcription can be a huge help.
Having the note-taking app within the software to eliminate the need to have multiple apps running and switching the windows back and forth. I love this feature so that I can take notes and focus on the meeting at the same time.
Cons 
cannot share just the part of your computer screen. The way around to this is to use a dual monitor set up, and share the full screen of one of the monitors.
The recordings are saved in their cloud storage for up to 1 year. If someone needs to reference recordings that are more than 1 year old, they would need to move their recordings to a separate cloud storage system.
Sometimes having to update the app before starting a meeting. This is not unique to GoToMeeting, but it would be a good practice to frequently update the apps on your computer and mobile devices.
GoToMeeting is a robust video conference solution. Its integration with Google Apps, such as Google Calendar makes it a simple service for the most.
Zoho Meeting
Zoho Meeting is an open-source video conference service with the cap at 100 participants at a time. You can share the meeting link so that participants can join and view the meeting within their browser (The meeting host still has to use the software). The subscription fee is cheaper than Zoom's, and the storage for recordings is counted based on the number of recordings as supposed to the file size. Their most affordable plan starts at $8/month per host.
The interface is super simple to use. Choose whether you're starting a meeting or webinar, and select whether people can participate by phone or their computer devices. If you're starting a webinar, you can invite participants by email or sharing a link.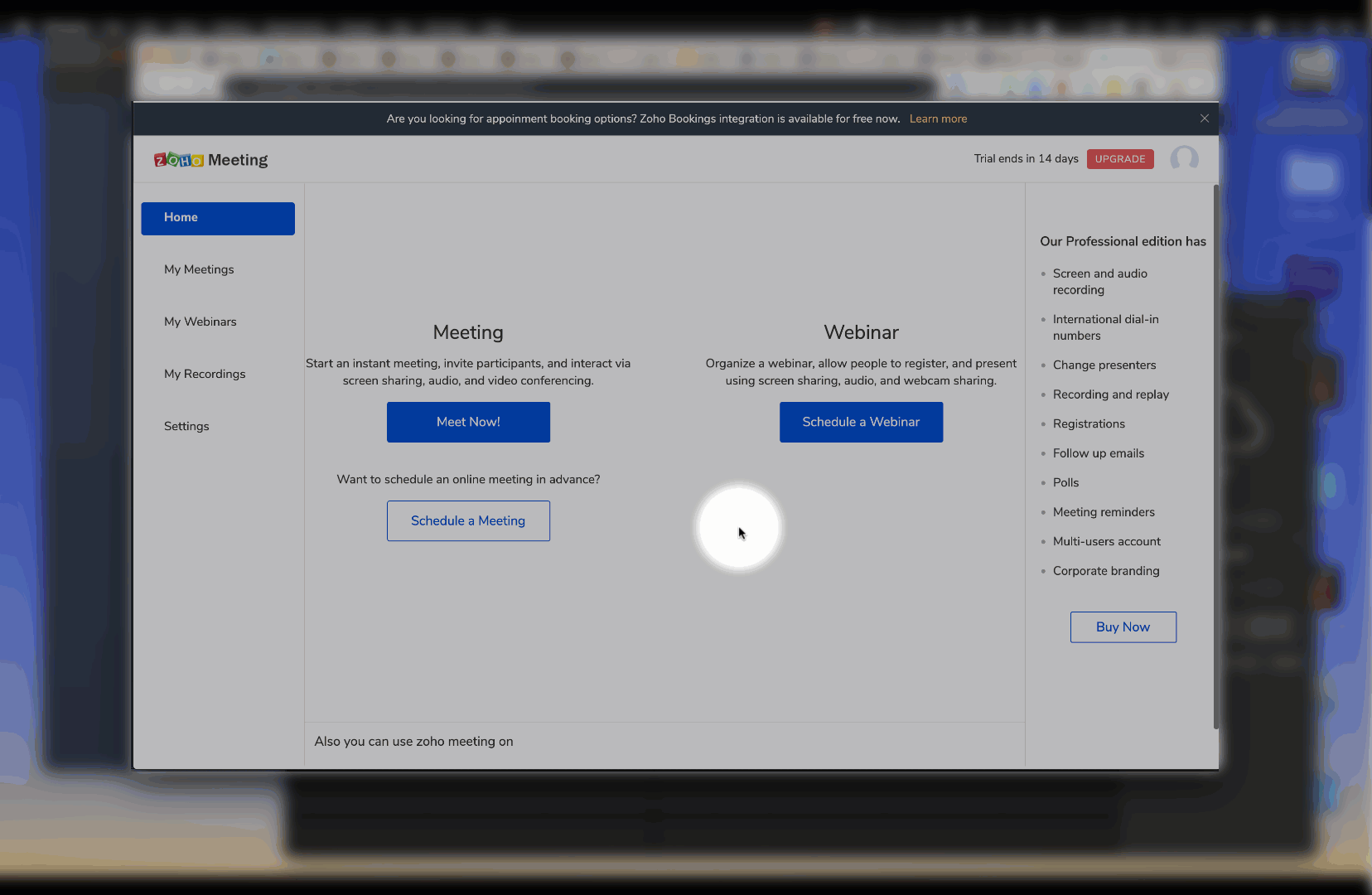 Pros
Includes a free plan with limited capabilities
International dial-in numbers for paid plans
Create polls, Q&A, raise hand
Custom co-branding available for your video meeting
For their webinar feature, you can optionally create a registration page with custom fields — full name, country, city, etc.
3rd party app integrations available – Slack, Salesforce, Acuity Scheduling, HipChat.
You can "lock" a meeting room so you can fend off unwanted visitors to your meeting room.
Cons
extra recording space available for an additional purchase starting at $20/month
does not have a native integration with Google Apps.
Zoho Meeting is an affordable alternative to Zoom. If you're already familiar with Zoho's ecosystem and its CRM solutions, this might be worth a look.
Microsoft Teams
Microsoft Teams is like Skype for business with rich features and integrations to help you collaborate productively with your team members. Microsoft Teams is an excellent choice for internal company meetings, but not as flexible as other services listed here because you're locked into Microsoft's ecosystem.
It's also not the best solution for holding a virtual meeting or webinar with people outside of your company who doesn't have a Microsoft account, like your customers and students. The cheapest plan of Microsoft Office 365 starts at $8.25/user/month.
Pros
Recommended for someone already familiar with Microsoft's services.
It does not cost extra if your company already has an Office 365 license.
Feature-rich with chat tools, schedule a meeting or share a task with your teammates.
Lots of 3rd party integrations, such as Trello, Google Drive, and Dropbox, among others.
Cons
You cannot try Microsoft Teams for free without signing up with their Microsoft Teams business or education plan.
You're locked into the services of Microsoft Office 365 once you sign up. It's an overkill if you do not need other services offered by Microsoft Office 365.
The best Zoom alternative for you
My recommendation is GoToMeeting as the best alternative to Zoom. Not having to install any software on your desktop and being able to start or attend a virtual meeting within the browser is a huge plus.
Zoho Meeting offers the most affordable plan with a clean interface.
Microsoft Teams would be the best go-to solution for someone whose workflow is already integrated with Microsoft's other services.
What did I miss? Leave you comments below.
Join the Newsletter FREE
Get Exclusive Productivity Tips That I Only Share with Subscribers