So, you work from home. But sometimes you work from a coffee shop for a change. Me too! I love writing at a place like Starbucks.
But did you know? The security protocols on public wifi at a coffee shop or airport are notoriously vulnerable. It's possible for someone to look into what you're typing while you're at a Starbucks!
There are two ways they could do to see what you're doing on your computer. They could track your internet activity by hacking into the IP address your device is on, or they could nonchalantly pass by your table to take a peek at the computer screen over your shoulders.
Use a privacy screen filter against peeping Toms.
Use a VPN (virtual private network) app against hackers.
A VPN is used to protect your privacy by connecting to another network and using a different IP address from the one that you're actually using.
It shields the actual IP address your device is on. You get an extra layer of security when you're on a public wifi network. It'll also allow you to access region-restricted content on video streaming websites like Netflix or Hulu. That's how I watch Japanese animé on Netflix when I'm traveling outside of Japan.
If you're a remote worker, having a VPN app on your computer is a must.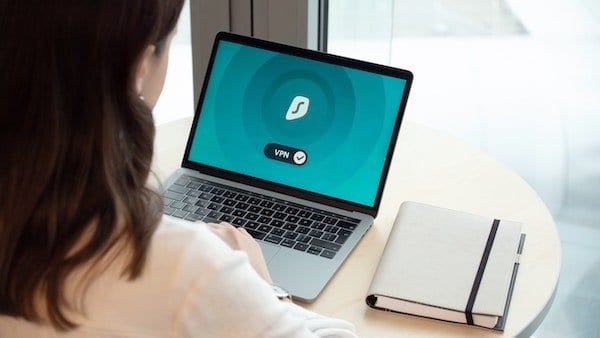 Here are my top VPN service recommendations. All VPN apps do the exact same thing, which is hiding your IP address and letting you watch your favorite shows from another country.
I made some price comparisons of popular VPN below, along with my take on how they how they look and feel.
Since you'll be using a VPN often, you might as well use the one you enjoy having in your digital workspace (Marie Kondo whispers in your ear, "Spark joy!").
Here we go.

This post contains references to products where I receive commissions for purchases made through links. This is to help support my blog and does not cost you any extra.
ExpressVPN
When you start the ExpressVPN app, it'll show you a big on/off button. It's green when it's on, and red when it's off. Just press the button and it'll connect you to a "smart location" (the recommended, optimized server location based on ExpressVPN's algorithm) within 3 seconds.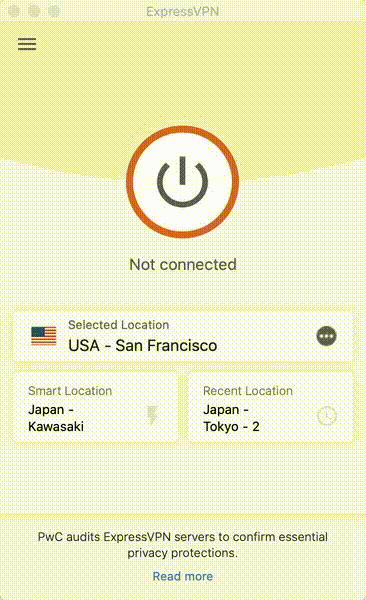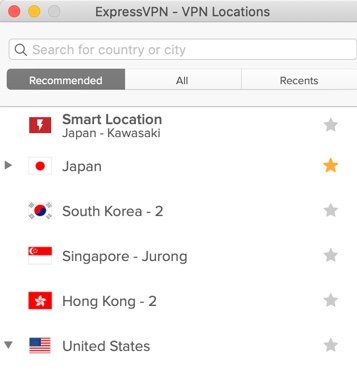 ExpressVPN offers 160 server locations in 94 countries. You can also "star" to save your favorite server locations for faster access later. ExpressVPN is recommended for someone who wants an easy way to access geo-restricted websites.

The cheapest plan is offered at $8 per month. ExpressVPN has a straightforward and intuitive interface, and this is what I am using right now (ExpressVPN is literally running in the background as I write this).
TunnelBear
TunnelBear is the only one in this list that lets you try for free, up to 500MB of data traffic each day. When you toggle on to connect to a VPN, a bear goes through a tunnel and shows up in another country. It has the cutest graphics among the VPN apps.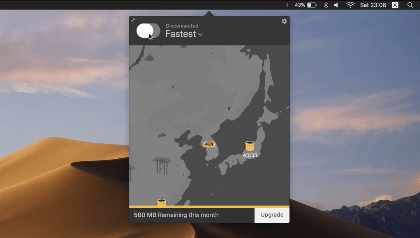 On a Mac, Tunnel Bear can be accessed via the top menu bar or the dock. Tunnel Bear offers 24 country locations. Select "fastest" to let the app decide the most optimized VPN location for you.
Sign up to their paid plan to get unlimited data traffic. It offers a simple, month-to-month plan for $3.33 / month.  I recommend TunnelBear for someone who prefers easy-to-use interface, and does not require any country server options or complicated features.
PureVPN
Unlike the two VPNs mentioned above,  PureVPN offers a range of customized settings that you can control.
After you install the app on your computer or phone, you'd have to use the username and password they assign you to use the app. It takes a bit more time when setting up PureVPN for the first time on your device.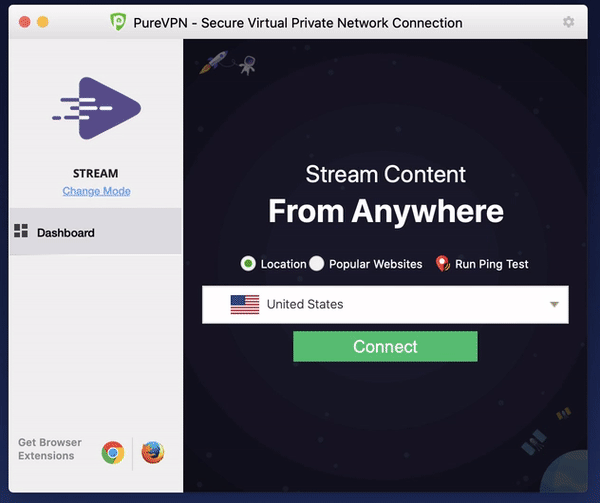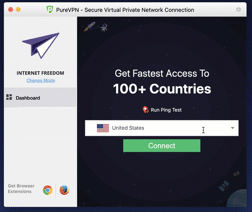 PureVPN is recommended for someone who enjoys control and customization. They offer a dedicated IP service for only an additional $0.99/month. A dedicated IP is a static IP address that only you have access to. A dedicated IP address comes in handy when you want only a visitor from that particular address to access your company intranet website, and deny access to random internet surfers who are on a different IP address.
The cheapest plan on PureVPN is offered at $3.33 a month, and it is recommended for someone who wants a lot of control.
CyberGhost
CyberGhost offers the cheapest monthly payment of $2.75 if you sign up for their 3-year plan.
IPVarnish
When you sign up with IPVarnish, it comes with a free additional SugarSync storage. SugarSync is a cloud storage solution that allows you to specify which folder to sync on your computer. If you're not happy with other cloud storage solutions like Dropbox or OneDrive, you might want to consider taking up on this offer.
Price comparison
94 countries
160 locations

140 countries
180 locations
2000 servers
Summary
If you want a quick and easy solution, a simple month-to-month low commitment payment plan and a friendly interface that's not distracting, go with Tunnel Bear.
If you want to unblock geo-restricted content and have enough selections of servers locations to choose from, try ExpressVPN.
If you want to have more control and tinker your settings, go with PureVPN.
If you want the cheapest solution, choose CyberGhost's 3-year plan.
If you want the cloud storage combo with SugarSync, choose IPVarnish.
Is there any other VPN that I should mention? Let me know in the comments.
Join the Newsletter FREE
Get Exclusive Productivity Tips That I Only Share with Subscribers