In this post, I'm going to show you the best voice to text transcription software.
Do you remember the time when you asked Siri a question and she gave you a totally unrelated answer?
Voice recognition technology, including Siri, has come a long way.
There are voice-to-text solutions that can recognize and transcribe your speech with high accuracy.
With the best voice-to-text transcription software, you can quickly generate the transcription of a meeting or video recording. There are also transcription apps that can dictate your words and help you compose an email or blog post.
Here are my top picks for the best voice-to-text transcription software.
This post contains references to products where I receive commissions for purchases made through links. This is to help support my blog and does not cost you any extra.
Google voice typing
Descript
Temi
Rev
Transcribe
Dragon by Nuance
Why use voice to text transcription software?
Instead of having to type one keystroke at a time, why not speak into the computer and have a transcription software do the work?
As a Youtuber or podcaster, you can use automatic transcription services to generate transcription for your video or audio to expedite your transcription process.
Are you a writer? If you get stuck writing an article or document, talk out loud instead of typing. That way, your ideas flow more naturally, and the transcription software can turn your ideas into text.
What makes a good transcription software?
Good transcription software is capable of accurately recognizing and transcribing spoken words.
In some transcription software, you could even choose different regional accents, such as American, British, and Australian English, to accurately recognize your pronunciation and speech.
Why do some voice to text software cost money?
Just as with many things in life, quality comes with a cost. If you're looking for software that can understand a wide range of accents, pronunciation, and pick up a human speech in background noise, you might want to consider premium solutions and services.
When you pay for a transcription service, it allows the developers to invest that money into making the software or service better.
Some premium solutions come with advanced features and third-party integrations, which might help your existing workflow even more efficient.
Google Voice typing:
Dictation software for writers
If you are already using Google Docs for your writing, you are in for a treat.
On Google Docs, go to "Tools → Voice typing (Mac: ⌘+Shift+S)" select from the available languages and start talking in that language.
If you're an English speaker, you can even select your accent, such as American, British, or Australian, for better results.
Press the microphone icon and start speaking. When you are done, press the same icon.
Punctuation commands
Add punctuations while using Google voice typing. Say one of the punctuation commands below, and Google will display the appropriate punctuation symbol on your document. For example say, "Question mark" at the end of your sentence and it'll type ? for you.
Period (.)
Comma (,)
Exclamation mark (!)
Question mark (?)
New line (starts typing from the next line below the previous line)
New Paragraph (starts typing from the next paragraph, i.e., generate a line of space between the new and previous section)
I use Google voice typing to get my ideas out of my head and onto the document first. And then I edit and format the document, which later becomes a blog post.
But what if you have an audio or video file that needs to be transcribed?
Descript:
All-round solution for voice to text dictation and audio/video transcription
My top recommendation is Descript. It's an excellent solution for bloggers, podcasters, YouTubers, and video creators.
Descript stands out from Google Voice typing because you do not have to say the punctuation commands to generate them. It automatically generates punctuation marks for you, making it easier to edit and format the document after transcribing.
You can use Descript to transcribe meeting notes, Zoom video calls, and remove filler words like "ums".
Courtesy of TechCrunch
You can use Descript as text-to-speech software as well.
Want to hear what your written text sounds like if spoken by a person? Descript can help you with that so that you can get a more nuanced understanding of the tone of your writing.
Use Descript's overdubbing feature to replace a misspoken word by typing a new word over it. Then Descript will automatically generate the audio with the natural sound of your voice!
A freakish AI move that would save you from the hassle of having to re-record the entire audio just for a few mistakes. Here is a short demonstration video.
Courtesy of Descript
Descript is free for up to 3 hours of speech. A paid plan is available for more hours and frequent uses.
Try 3 hours of Descript for free.
Descript is a powerful tool, and its monthly subscription is a steal if content creation is your routine. It is available as a web app and a desktop app.
But what if transcribing is not your routine work. What if you just have a bunch of one-time transcription projects?
Temi:
Affordable automatic transcription for one-off projects
Use Temi for affordable, automatic transcription.
Temi is one of the cheapest machine transcription services with high accuracy out there.
While it lacks the dictation feature, you can have an audio or video transcribed for only 25 cents a minute.
Simply upload an audio or video file or provide the direct URL link of the media, like a YouTube video.
Try Temi, the cheapest machine transcription.
In addition to the web app, Temi is also available on mobile. Record your voice on the go and have it transcribed instantly using Temi's mobile app.
Do you want the most accurate transcription?
Rev:
Cheapest and accurate human transcription
Use Rev, which is a service operated by the same company as Temi.
Rev is the cheapest accurate transcription service. Transcription is done not by machines, but by professional transcribers. But their turnaround time is so fast that you'd think that they're robots, but with the accuracy of the human transcription. I got mine in less than a few hours, even for a huge project.
After you get your transcription, you can download it as a text file in various formats (.text, .docx, .srt, etc). Or, you can also make adjustments within their interface, if you want to check the words and sentences against the exact time location in the audio or video.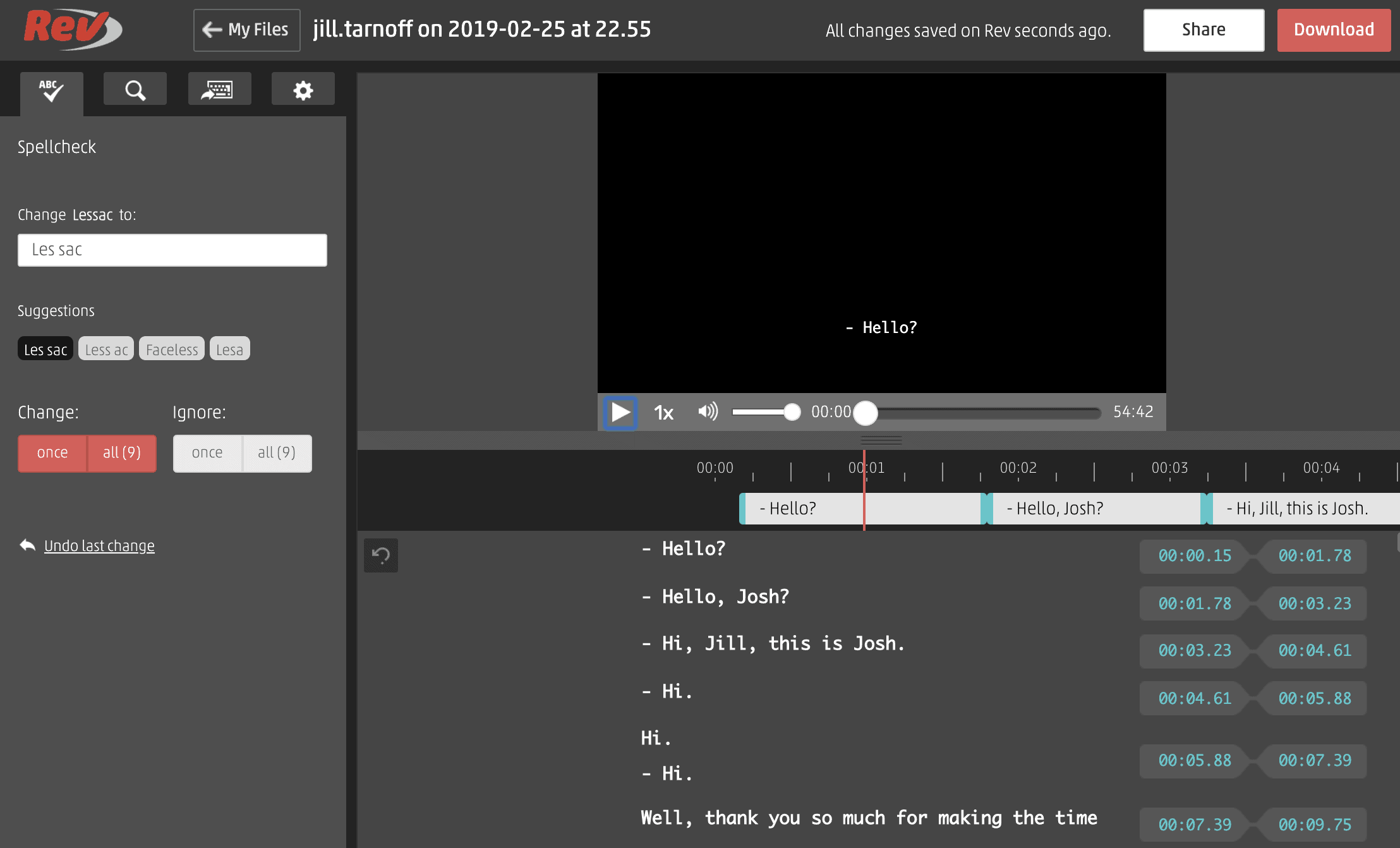 Rev will convert your audio or video to text and caption your videos for the flat rate of $1.25 per minute. They also offer subtitles in 15 other languages, whose rates can vary.
The payment by the minute, so it's very straightforward and you'll know exactly what you'll be getting.
I recommend Rev for someone who needs accurate transcription of an audio or video with the timestamps. Timestamps are useful, especially for video editors or those working with the caption files such as .srt files.
When you send off your project to Rev's professional transcribers, you can also tell them the names of people or companies with unconventional spelling mentioned in your audio or video. That way, your final transcript is delivered to as close to the final form as possible.
In addition to the web app, Rev is also available on mobile. Record your voice on the go and have it transcribed by professional transcribers within a few days (sometimes within hours) using Rev's mobile app.
Transcribe:
For DIY transcription
If you'd like to take the DIY approach for transcribing audio or video, use one of these services.
They are both web apps that allow you to upload your files and start transcribing.
You can change the audio speed and use the keyboard shortcuts to start and stop the audio.
They even have some keystrokes for generating timestamps as well.
It also offers a real-time dictation feature in multiple languages. You could think of it as Google voice typing with more added features of transcription assistance with file uploads and streamed media.
Start transcribing your audio and video file on your own using Transcribe.
Dragon by Nuance: Honorable mention
Dragon by Nuance has been around for a while. It has a long history and is considered a leader in voice recognition technology and automatic transcription.
The price point for Dragon by Nuance tends to be higher. Its software suite has a bit of a steep learning curve.
It has a suite of products that are catered toward specific areas of expertise, such as legal.
Learn more about Dragon by Nuance.
If you're looking for the most accurate machine transcription with a bundle of corporate-level features, including voice to text transcription and text to speech reader, go with Dragon by Nuance.
Summary
My recommended best voice to text transcription software is Descript. It is the best solution for turning speech into text in real-time, as well as audio and video transcription with rich features.
Temi and Rev are great for one-off projects, and they get the job very fast.
For the cheapest and DIY solutions, use Google Voice typing or Transcribe.
Do you want to improve your audio quality in video conferences and audio recordings? My review of voice recording and noise filtering apps is coming soon! Make sure to come back and check it out.
Join the Newsletter FREE
Get Exclusive Productivity Tips That I Only Share with Subscribers