10 Home Office Supplies You Must Possess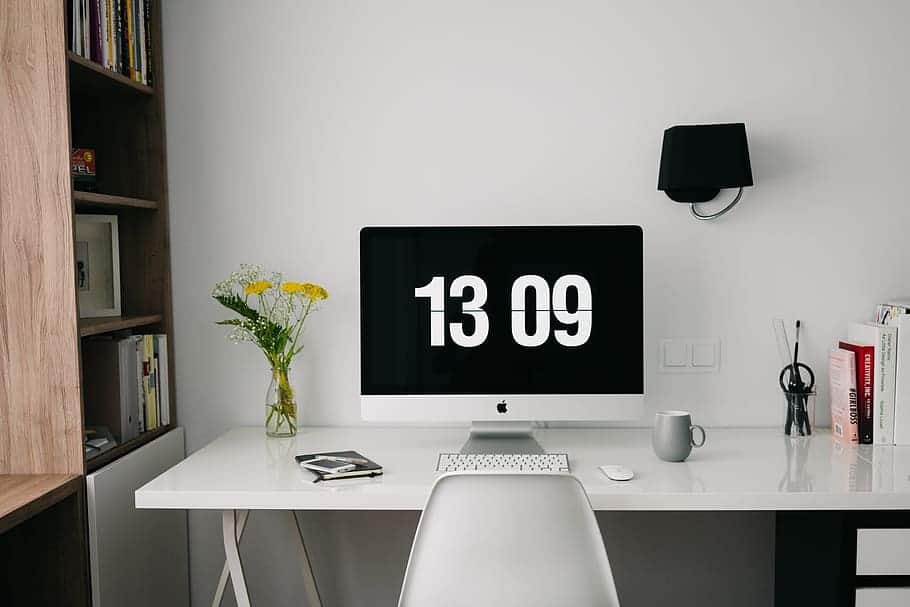 Working from home could be either a sweet dream or a nightmare depending on your workspace. Being surrounded by such relaxed conditions, mentally exiting "home mode" and entering "work mode" can be challenging. While it may be tempting when your bed is just a few steps away, organizing your workspace is critical to your productivity and mental health.
Setting up a home office can be tricky, but these 10 essential supplies will help make it an easy and enjoyable process.
Productivity Maximizers
Everyone has a different idea of the perfect home office setup. Some people prefer to work all-in-one space where there is no distinction between their living room, bedroom, and office. Others prefer working from bed with their laptop propped on pillows and surrounded by plush blankets.
Whatever works best for you, you should have a dedicated workspace. Here are 4 office must-haves for a productive workstation.
1. Adjustable Desk
If you see yourself working from home in the near future, an adjustable desk is a good investment for a fully ergonomic workspace. A motorized sit-stand desk gives you the option to switch from standing to sitting in seconds, thanks to its adjustable heights.
Desk height can have a great impact on your overall comfort. Too high or too low desk surfaces might cause uncomfortable postures, such as stretched arms and raised shoulders. A CDC research revealed that using a sit-stand desk lowered upper back and neck discomfort by 54% after only 4 weeks. It also helps boost your productivity by 65%.
2. Ergonomic Chair
Whether you work from home or in an office, taking care of your body is just as essential as taking care of your job. The appropriate office chair can enhance your comfort, health, and overall productivity. It is one of the most crucial components of any workplace, so investing in a decent one is worth it.
A comfortable ergonomic chair with optimum lumbar support will assist in reducing back discomfort and allow you to focus. Employees who were provided an ergonomic chair reported fewer unpleasant symptoms during the day and a 17.7% improvement in overall productivity.
3. Soft-light Desk Lamp
Adequate lighting levels are critical for your optic and mental health. Working in poorly lit situations where screens are the only source of light strains the eyes, resulting in tiredness, headaches, and impaired vision.
A soft light desk lamp can create a truly pleasant lighting experience that's easy on the eyes in low-light work settings. A gentle light offers your workspace a warmer and cozier atmosphere, which may contribute to a less stressful home office.
4. Bluetooth Speaker
Music can help you unwind and recharge. It can also help you work more efficiently. According to a study conducted by the University of Miami's music therapy department, people who listened to music while working completed their tasks with higher quality and speed than those who did not.
Having a good Bluetooth speaker in your office helps you fill it with your favorite mood music and drown out any distracting noises, allowing you to concentrate better. So make a playlist of music that will put you in the right mood and blast it out on your favorite Bluetooth speaker.
Mood Boosters
5. Noise-Canceling Headphones
If you happen to live on a busy street or with snoring roommates, you should invest in some noise-canceling headphones soon! A pair of noise-canceling headphones can help block out any unwanted noise from a construction site or your neighbor's singing practice. Therefore, you can concentrate better on doing your work. Noise-canceling headphones can also help prevent hearing loss and reduce stress caused by noise.
6. Mini Humidifiers
Cracked lips and dry skin may be a sign of low humidity levels in your home. Consider investing in a mini humidifier now! Mini humidifiers are small but mighty. They help you breathe easier and increase the moisture levels in the air. They're USB rechargeable and can be set to release steam at predetermined intervals. Just add water and let these babies work their magic.
Mini humidifiers come in a variety of designs, many of which also double essential oil diffusers. As you may know, aromatherapy is a health and wellness booster. When you spend a lot of time at home, it's even more vital to refresh your surroundings with a scent that makes you feel calm or revitalized. So take a deep breath, and keep working on!
7. Desk-friendly Plants
Plants are pretty decorations that add a touch of greenery to your space, but they're more than that. According to studies, surrounding yourself with plants is good for your health. They're natural air filterers and are soothing to be around. Plants also add color and breathe life into static indoor spaces. Plants help us manage stress and promote positive energy. Psychologists have discovered that introducing some flora into the workplace can enhance productivity by up to 15%.
Even when you consider yourself a plant killer, don't go for artificial plants! Plenty of plants can survive in offices with only fluorescent light and little care. For example, succulents are desk-friendly plants that don't require a lot of work. Other low-light options are the ZZ plant, pothos plant, snake plant, and peace lily.
Virtual Meeting Game-changers
Thanks to the global pandemic, many of our professional and social interactions are now online. It's now the age of virtual meetings and video conferences. Whatever platform you're using, video calling has become an important part of our lives, and now is a good time to upgrade.
Ever got Zoom gloom? Change your virtual meeting game now with these cool accessories.
8. External Webcam
Because more online communication is taking place these days, it is critical to have crystal clear video chats with friends and video conferencing sessions. That means you'll need to get one of the best webcams for your workspace.
No matter how expensive your computer or laptop is, its integrated camera usually sucks most of the time. That means your appearance on video conferencing calls might not be as professional as you'd imagine. So it's time to get rid of the built-in webcam and invest in an external one for additional functions and higher resolution.
Whether you're attempting to stay in touch with your coworkers or setting up the ideal work-from-home arrangement, invest in one of the finest webcams to ensure your family, your friends, and coworkers can see your joyful face. You can improve video quality significantly and take your video conferences to a whole new level just by using an affordable webcam with autofocus.
9. USB Microphone
Background noise and audio that cuts in and out can ruin an online meeting faster than anything else. It's possible that your laptop's poor built-in microphone is to blame. So step up your video conferencing game today with a standalone microphone. The built-in noise-cancellation technology will block out any noise, especially when there are crying babies or barking dogs in your house, to keep your sound crisp and clear.
10. Portable Green Screen
From high-budget movie studios to our home offices, the green screen is gradually becoming an essential accessory and office supply.
Generally, green screens allow you to change the background of your surroundings into any image or video footage you like. However, they can do a lot more than that. A green screen with high-quality materials can absorb more light and prevent wrinkles. To prevent dirt and dust buildup, you can wash it in your washing machine to maintain cleanliness.
You can get them in different sizes and shapes. There are a variety of low-maintenance, cost-effective options available, including portable green screens that fold up easily.
Ready to Set Up Your Dream Work Lounge?
Aside from being a functional space for getting work done, your home office should be a reflection of who you are. Make it your own and inject some personality to bring it to life. Photos of loved ones, collectibles from your previous trips, or positive affirmation art prints can transform your home office into your own private work-from-home paradise.
These 10 home office supplies are just something to get started with setting up or doing a makeover for your workspace. What else would you like to add to this list? Feel free to tell us in the comments.
Join the Newsletter FREE
Get Exclusive Productivity Tips That I Only Share with Subscribers